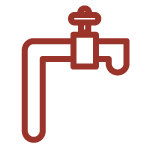 Irrigation Systems
Rotor, Spray and Drip Irrigation.
A properly designed and installed automatic irrigation system provides countless benefits to your lawn, garden and landscape. It is a valuable insurance policy, that almost guarantees the success of any landscape in the South. It eliminates the time and hassle of hauling hoses and sprinklers haphazardly around your property, hoping you have everything covered. A well designed irrigation system can also actually cut down on the amount of water you would normally use watering by hand by implementing precise intentional watering, to the right locations for a specific scheduled amount of time.
We install water-efficient systems that include low precipitation rate nozzles and water-conserving drip irrigation systems to insure the health and sustainability of your new landscape. Each system is custom designed to your planting plan, ensuring the correct amount of water is properly delivered to each specific plant. Systems are operated by an easy to use electronic controller that can be set to water at specific times, on certain days and for variable durations. A properly designed and installed irrigation system is a solid investment for improved water management and savings. It will ensure that your new plantings will thrive through all the seasons of the year.