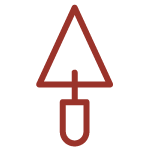 Hardscape Construction
Patios, Fireplaces, Outdoor Kitchens, Fire Pits, Retaining Walls, Walkways and Drives.
Hardscape elements are often the backbone of any landscape design. They delineate space, create focal points, provide structure to the garden and allow the architecture of the home to extend outside. Our skilled masons work with brick, block, concrete and stone to create and construct these beautiful outdoor spaces.
The construction of these complex spaces often requires the coordination of multiple tradesmen working together through various stages. We know from experience that seamless management and execution of these stages is what makes a hardscape project successful and ensures that it functions perfectly with the other designed components of the landscape.