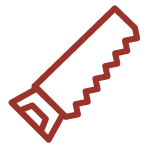 Custom Crafted Carpentry
Pergolas, Decks, Arbors, Trellises, Pool Houses, Garden Sheds, Custom Fences and Pavilions.
Elements Landscape can design, layout and coordinate the construction of all types of outdoor structures. We will work with you to help you select a quality builder for your specific project. We will guide and direct them through your project to ensure your project is constructed as designed, finished on time and within budget. The tradesmen that we work with and endorse, uphold the highest standards of quality and craftsmanship.
We work with a variety of quality craftsmen to create beautiful structures that compliment the existing architecture of your home and stand the test of time. Whether it's a simple accent piece or a multi-room pool house, Elements Landscape can custom design and coordinate any outdoor structure you desire.