We are very excited to have one of our recent projects featured on the cover of The Home Mag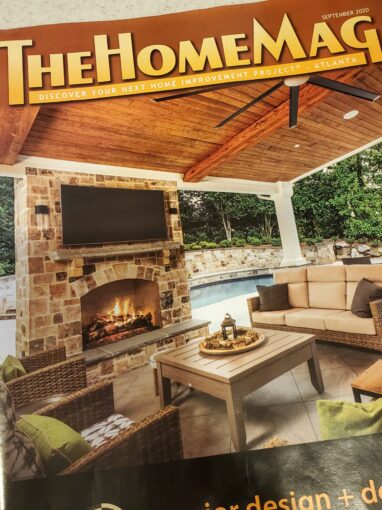 Maintenance Tips for Summer
Snip off sprouts from the base and lower trunk of crape myrtles that are being trained to grow in an upright tree form.
Prune early-flowering azaleas now that they have finished blooming. Remove tall sprouts at their base, inside the shrub.
Sharpen or replace your mower blade now that lawn grass has begun growing rapidly. Check the mowing height on a flat surface. Grass cut with a sharp blade ensures cutting rather than tearing. Clean cut grass is healthier and uses less water.
Adjust and or update your irrigation system to provide better efficiency and coverage. You may want to consider alternative irrigation methods such as rain barrels, drip irrigation or irrigation bags.
Look for aphids clustered at the tips of fast-growing crape myrtle branches. They are tiny yellowish green insects usually gathered on the underside of the leaves. They produce 'Honeydew' which promotes black sooty mold, giving the entire plant a dark cast. Blast them off with a water hose and give a ground-dwelling spider a nice lunch. If that's not enough, then a strong spray application of insecticidal soap will do the trick.
Treat your azaleas for lace bugs if you notice the leaves covered in hundreds of yellow speckles. Insecticidal soap, horticultural oil and systemic insecticides all work well. Be sure to spray the underside of the leaves where these insects like to cluster.
Plants need an inch of water per week. What's an inch of water? If rainfall or irrigation fills an empty soup can to a depth of one inch, that's just what plants need.
The best time to water is between 2:00 a.m. and 10:00 a.m. This allows the grass to dry before nightfall the next day and prevents disease.
To prepare your plants for the heat of summer have all your planting beds mulched with a 3″ layer of fresh pine straw or hardwood mulch to conserve and retain moisture.
Hold off on any pruning or fertilizing of late spring/summer flowering shrubs until they have bloomed.
Fertilize warm season grasses now if you have not already done so and monthly through the summer. Make sure they are cut to the proper height.
Where the grass won't grow, plant a shade garden.
Every year we encounter homeowners who have lost their lush green lawn due to shade from an ever expanding tree canopy overhead. They are usually left with unsightly areas of thin grass, weeds and dirt. From a landscape design perspective, one of the best ways to counter this shady problem is to simply work with it. Mother Nature gives you lemons, you make lemonade.
Shade gardening in Georgia can produce some of the most beautiful landscapes. We have a long growing season and a perfect climate to maximize the variety of choices for your shade garden. About 80 percent of all garden plants do best when given at least six hou of sunlight, leaving the remaining 20 percent for the shade garden. Although shade does limit the choice of plants we can grow, as you will see, it opens the door to some wonderful plants you would not otherwise be able to grow in full sun. The creative challenge is developing a shade garden by selecting an array of understory trees, shrubs, ground covers and perennials that create an interesting, functional and beautiful display throughout the four seasons.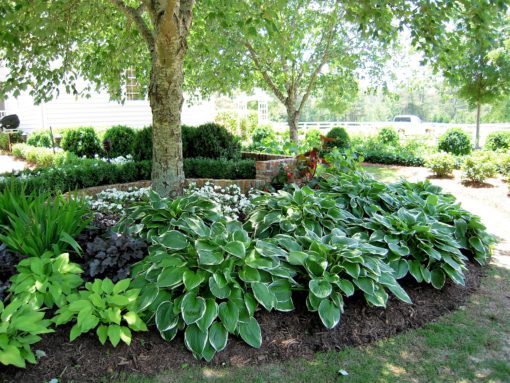 Understory trees can be a beautiful addition and accent piece to any shady spot. As a group, the Japanese Maples make some of the best understory trees for the shade garden. Their graceful form blends well with the more massive trunks of the canopy of trees. Most of the upright growing selections will reach 20 to 25 feet tall and effectively fill in the background spaces between the trees, creating lacy walls to break up the expanse. Japanese Maples are often the focal point of any garden with their bright red to chartreuse green leaf colors and textures ranging from course to feathery fine. Some of my other favorite understory trees include, Forest Pansy Redbud, Flowering Dogwood and Saucer Magnolia.
Azalea, Camellia and Rhododendron have traditionally made up the quintessential understory shrubs for the Georgia shade garden, and rightly so. These proven evergreens produce beautiful bright showy flowers and are relatively easy to grow. However there are many other wonderful shrub selections that will give your shade garden a unique look, some of our favorites include: Fatsia, Aucuba, Laurel, Japanese Plum Yew, Anise, Leucothoe, Osmanthus, Pieris, Ligustrum and Hydrangea. Hydrangeas are among the best for providing big bold color and contrasting texture to a shade garden. 'Endless Summer' hydrangea is a favorite and somewhat of a breakthrough in the world of hydrangeas because it has an extended blooming period and blooms on new growth, making the job of pruning and maintenance much easier. Other great varieties include 'Limelight', 'Nikko Blue', 'Oakleaf' and 'Blushing Bride'.
There are also many ground covers and perennials that perform very well in shady gardens and a multitude of these plants produce beautiful, exciting flowers and foliage that seem to glow in the shadows. Hostas can't be beat in the Georgia shade garden, they make even a mediocre gardener look like they really know what they are doing. An assortment of selections scattered about your beds provides bold, colorful contrast to whatever surrounds it. As a designer we like to use big sweeps of hostas to create beautiful color and textural contrasts in the garden. Some of our favorites are: 'Golden Tiara', 'Royal Standard', 'Patriot' and the giant 'Sum and Substance'. There are many other great shade selections beyond Hostas and some of the ones we like to integrate into our landscape designs are: autumn fern, acorus, liriope, mondo grass, ajuga, aspidistra, caladium, pachysandra, heuchera and vinca.
Some additional elements should be considered beyond plantings when designing a shade garden. Consider adding an informal sitting area in the cool comfort of your new garden. This may simply be setting in a stone or wood bench or it could be a natural stone terrace with ground cover planted between large stones that could accommodate a small table and chairs. This is a simple and low impact approach for integrating additional entertaining and gathering space into your landscape. Other elements that can add the finishing touches to your shade garden are a bubbling water feature with its extra cooling affects and that wonderful soothing sound.
Whatever your shade challenge may be there is always a great solution just around the corner. At Elements Landscape we can take that shady eye sore and design and install a beautiful, low maintenance shade garden that will brighten that dark spot with layers of color and creativity!